Thank you so much for joining our first ever back to school blog hop on Embellish Me Happy. My name is Toccara and I am a creator and DT member on EMH. You just left
http://mjskraze.blogspot.com
I hope you enjoyed all the fun there. If you for any reason arrived on this site from anywhere else other than the blog listed above please click this link and start from the beginning at
http://embellishmehappy.blogspot.com
There you will be starting the blog hop from the beginning.
Here are a few rules for this blog hop this month:
...

The hop will run from August 13th - September 8th. You will upload your creations for my challenge on the Embellish Me Happy Blog Via In Linkz and name your challenge backtoschool _________( then the name of the challenge your hosting)
Please make sure your creation is uploaded by September 8th 12am EST.
All creations must be new and not be combined with any other challenges.
Please make sure you adhere to all the rules of this challenge, the general hop rules and the challenge rules.
You may participate in all challenges for the hop; you will get one entry point per challenge entered during the hop.

Now here is the fun part the challenge:
Today your challenge is to be creative and make some sort of cards for a teacher or someone that will be helping you out kick start this school year. Whether it is a teacher, a grandparent or parent that may be helping you get the kids around or picking them up from school, anyone who may be assisting you just make them something that will send a nice Jester or thanks.
Make sure you try and theme it for the occasion which is we are celebrating which is back to school. I choose to make some ATC's as little small tokens for each of my children teachers. Used hall pass papers from We R memory keepers and also used some handmade tags from the The Paper Place on etsy. I also used papers from Crate paper.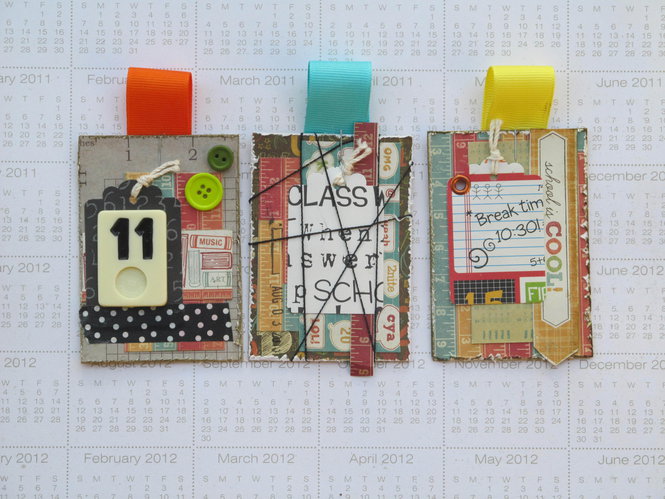 Now that you have the challenge from my blog make sure you follow the challenge instructions and please head on over to Embellish Me Happy. You have completed the blog hop and now you can get your creations ready and post them on EMH. You also may want to stay tuned into our facebook page for games and freebies! I hope you enjoyed the blog hop and I can't wait to see your creations.





Blog Hop Order


Marlene- http://www.marlenefilipiuk.com/




Paula- http://hechoamanoyconcarino.blogspot.com.es/




Darcy- http://ourhouseofe.blogspot.ca/




Ester- http://www.lascositasdeexter.blogspot.com/




Erica- http://ericarosecreates.blogspot.com/




Mandi- http://mjskraze.blogspot.com/




Toccara- http://www.lifeofascrappertoccara.blogspot.com/




EMH- http://embellishmehappy.blogspot.com/




Toccara